The Grand Re-opening ceremonies were hosted by Disneyland President Paul Pressler, and in attendance were more NASA astronauts than I thought had ever flown in space. They included several from the Mercury, Gemini, and Apollo programs like Scott Carpenter, Pete Conrad, Wally Schirra, and Apollo 11 Astronaut Buzz Aldrin - men who were childhood heroes for space junkies like me, over 40 of these amazing men and women altogether. But soon the ceremonies were over and it was time to see what the Imagineers had thought up this time.
The changes start right out front with the Astro Orbitor. Situated just behind the gateway to Tomorrowland, this is the first thing guests see as they leave the hub. It's a rocket ride carousel for individual riders. The rocket sleds rise and fall as they spin around a space sculpture that's a moving model of orbiting planets at the center. Its very simple, and some will claim its too tame in these days of high-tech roller coasters, but its a ride that is still a lot of fun without being too scary for the younger kids... or their parents!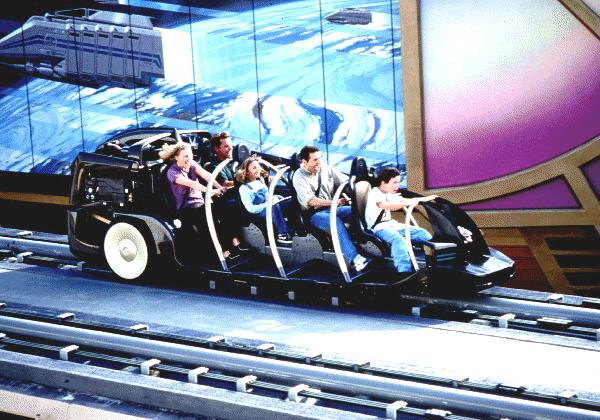 Next we come to Rocket Rods, the new high-speed thrill ride that runs along the old Wedway People Mover tracks. The new ride has its entrance in the old Circle Vision Theater. Once past the first section with large diagrams of the blueprints for the rocket cars adorn the walls, the queue area takes guests through a spiral pattern as a bit of entertainment is shown on the Circle Vision screens. The queue area is only meant to take 20 minutes for guests to reach the ride itself, which probably explains why so little effort was made to decorate it (Note: they have rennovated the queue area since I wrote this, but I haven't seen the changes yet). On the other hand, this ride is going to be so popular that the wait is sure to be close to an hour when the park is busy. But finally, you do get to the loading area which is a roundabout built on the old rocket ride.

Each Rocket Rod car seats five riders - three single seats front to back followed by a double seat, much like the Matterhorn Bobsleds. Once seated and safely strapped in, your car inches forward to the drag strip-like Christmas tree that counts down to launch - first the red light, then the yellow, finally the green and WHOOOOOOSSSHHH!!!! The madly accellerating car noses up as it starts off down the track, pressing you back into your seat as you speed along toward the Tomorrowland gate and around the first turn into the tunnel over Star Tours. From there its three minutes of hard turns mixed with bursts of acceleration as the car zooms over, around, and through the various Tomorrowland attractions. Rocket Rods is now the fastest ride in Disneyland with speeds approaching 30 miles per hour. The only disappointing aspect is that the long stretches of pitch black tunnels could be vastly improved with very little effort. I think it would be a lot of fun to have these cars zoom through the old "future world of Tron" effects from the People Mover. Thankfully, the Imagineers indicate that they will be enhancing this aspect of the ride. Rocket Rods has certainly been eagerly anticipated by fans of Disneyland. On Opening Day, people were lined up all the way out the Tomorrowland gate, down Main Street past the Disneyana Shop. I'm sure this is going to be one of those rides you know will take an hour to get through for a long time to come.
Update - Fall 2002: After 4 years of poor performance, Rocket Rods has apparently been retired for good. The ride was never able to achieve its goals for ridership and was always breaking down. The rumor mills are abuzz. I know several fans who wish they'd bring back the Wedway People Mover, but Imagineering is looking for a totally new attraction to fill this space.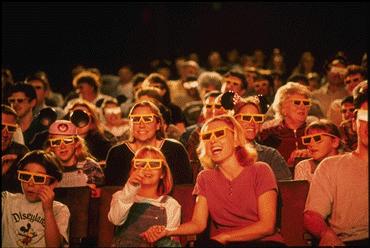 The former home of Captain EO now contains the Honey, I Shrunk The Audience attraction. This is a 3-D movie featuring the characters from the "Honey, I Shrunk The Kids" movies starring Rick Moranis. Moranis and the other actors from the movie appear here as Professor Wayne Zelinkski is set to demonstrate his amazing shrinking machine to the audience gathered at the "Imagination Institute" for a presentation hosted by the Institute's president, played by Monty Python's Eric Idle. The presentation goes awry, of course.
First, Professor Zalinski's hovercraft flies out of control, and then things really get out of hand when the audience is shrunk down to the size of dolls. The in-theater effects combined with the 3D images to allow you to really let yourself imagine its almost real. This same attraction has been in EPCOT Center in Walt Disney World for about 2 years now, and the Disneyland incarnation has added several new effects. Does anybody else remember "Sensurround"? Its the same concept, but with hydraulics instead of sound waves. The 3D images are used deftly for the most part, and even when the movie makers cast subtlety to the wind its still funny. There's more to this attraction than just a comedy shot in 3D with some bells and whistles, but you will thank me later if I don't tell you all about it. Trust me, try to avoid any glimpses into what happens and you'll enjoy the surprises.
Tucked into the same building as the Premiere Shop is the NASA Space Experience attraction. This is a collection of exhibits of all kinds of technology and artifacts. The two that really caught my eye were the moon rock and the large 3D photograph of the Mars Sojourner rover taken from atop the Pathfinder lander. I didn't spend nearly as much time in this exhibit as I would have liked, but I also noticed a great display of the inner workings of a satellite. Recent events have certainly focused our attention on how important satellites have become to our daily routines.
Another transplant from EPCOT Center is the new Innoventions attraction. This is where several companies provide interactive showcases for their products, including some that aren't yet on the market. This two-level attraction will feature five thematic areas: Transportation, Health & Sports, Home, Work & School, and Entertainment. This attraction is now open. In the artist's concept illustration shown here, you can see Space Mountain in the background, with Innoventions on the left and the rocket ride on the right.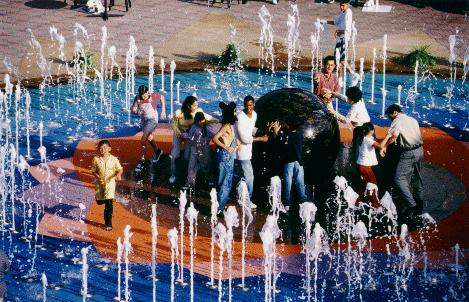 Adding to the overall rennovation is the new Cosmic Waves fountain in the central plaza of Tomorrowland that features three concentric rings of 5-foot tall jets of water surrounding an enormous ball of granite that is suspended in a pool of flowing water that keeps it spinning. At various intervals, the fountain springs to life as the jets shoot streams of focused water in a series of programmed sequences that is almost like a moving sculpture. Adults will appreciate the paterns being woven in water, while kids will be anxious to splash around amid the pulsing sprays.
I didn't get to see Disneyland until the giant TWA Moonliner rocketship was long gone, which was always something I regretted. So it was great to see that the Imagineers had built a 60 foot replica (the original was 76 feet high) which stands above the new Moonliner refreshment stand. Soda bottles are "launched" into the Cast Member's hand. It's a sort of feaux-high-tech pop dispenser that doesn't take itself too seriously. A quick giggle followed by a cool drink. Who could quarrel with that?
There's a new restaurant that's been the talk of Cast Members for a few weeks now - Redd Rockett's Pizza Port. It's a cafeteria-style restaurant that serves pizza and pizza sandwiches with several different toppings - from the more traditional pepperoni and cheese to chicken and vegetarian styles. Other menu options include pasta and green salads. The pizza is pretty good for a theme park restaurant, and if you're like me, there are many times when a light salad filled with veggies and some fresh fruit would be a welcome sight during a vacation filled with a seemingly unending stream of deep-fried fast food meals. There's seating available both inside and outside, so you can dine in the sunshine and fresh air if you prefer, or in the air-conditioned dining room when it's hot outside.
One aspect of the new Tomorrowland landscaping that isn't immediately apparent is that all of the plants and shrubs that adorn the attractions are edible. That's right, anything green and growing is edible. The new Disneyspeak for this is "agrifuture," where agriculture is integrated into modern living. You can get a guided tour of Tomorrowland that shows you what plant is growing where, and nibble a bit as you go. But I wouldn't recommend sampling the shrubbery without the advice of a Cast Member.
As I mentioned before, all of Tomorrowland has been rennovated - right down to the pavement. Even those attractions that are being retained have had something of a face-lift. Star Tours got a new fascade, and the queue for Space Mountain is no longer so haphazard. Space Mountain had gotten so bad that, for a while, guests were routed up backstage staircases and around the upper courtyard. The new FastPass system is helping smooth things out for both of those popular rides. Also being renewed are the Monorail and Autopia. Sadly, they closed the Submarine Voyage. The old ride just couldn't compete for the interests of guests anymore. The underwater decorations showed their age and it was very limited in the number of guests that could ride per hour, but I was sad to hear they decided to close it rather than rennovate it.
2008 Update: Thanks to the recent addition of legendary Pixar animation director John Lasseter to the Imagineering team, the Submarine Voyage has been revived as a "Finding Nemo" ride. We can all thank John for bringing back this classic Disneyland attraction.
Of course, it wouldn't be Disneyland without souvenirs and there's a bunch of new stuff for fans and collectors. Building on the enormous Beanie Baby craze is a series of Fab Five bean bag plushes featuring Mickey, Minnie, Donald, Goofy, and Pluto in silver spacesuits. Rumor has it that these will be undergoing a miniscule change in the coming months, which is sure to feed the current appetite for them among collectors. There are new Tomorrowland license plate frames, keyrings, t-shirts, a host of enamel pins based on current and past attractions, and a mousepad with a lenticular (a.k.a. flasher) picture of Mickey and Pluto in spacesuits (one of which I bought on sight). I added a set of five Fab Five In Tomorrowland postcards to my budding postcard collection. There was also a series of refrigerator magnets in the shapes of attraction vehicles like Autopia racers, Skyway gondolas, People Mover cars, and so on.

Being huge Toy Story fans, we couldn't help but buy the four new souvenirs based on the three-eyed alien which included a picture frame surrounded by a dozen little vinyl aliens, a 3-inch tall vinyl refrigerator magnet, a Buzz Lightyear wallet, and a gingerbread cookie decorated to look just like one of these cute little critters from the Pizza Planet's Claw Machine. For the fairly wealthy fans, there's a couple of leather jackets embossed with the images from the Tomorrowland attraction posters of the Moonliner and the People Mover. At $600.00, I thought it should come with a lifetime pass to the park, but the Cast Member I spoke to didn't seem at all amused by that suggestion. The new assortment of enamel pins Disneyland has introduced this year includes one for each of the new attractions. Of course, the hottest collectibles initially were the Fab Five bean bag plushes that were dressed in silver space suits. Also popular were the refrigerator magnets in the shape of Tomorrowland ride vehicles like the People Mover, the Autopia cars, a Moonliner rocket, and more. There is also a special assortment of postcards that sport the new Tomorrowland styling.
---
The Premiere Shop in Tomorrowland has an amazing new offering - you can make your own compact disc filled with sounds from Disneyland. Inside the shop are about 8 kiosks with touch-screen video displays. You just follow the instructions to hear samples of the available tracks and if you like a track, you add it to your list. You can select 10 tracks of recordings for your CD - adding or removing tracks as you go, and even changing the order in which they'll play. When you're finished, the machine ejects a specially-encoded ticket that you present to the casheir. Then about 45 minutes later you can return and pick up your finished CD.

And there's an overwhelming number of tracks to choose from. I didn't count them, but there's a selection of about a dozen cuts for each of the lands - Main Street, Adventureland, Frontierland, New Orleans Square, Critter Country, ToonTown, and Tomorrowland. I believe I overheard a Cast Member mention there were over 140 tracks to choose from. Its just a treasure-trove for the Disneyland fanatic. These are the actual soundtracks from all through the park, remixed to provide discreet selections suitable for modern CDs.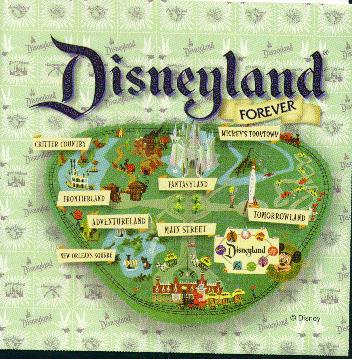 You can choose from things like the announcements you hear as you ride the Disneyland Railroad, all of the individual characters that talk in Pirates of the Carribean, three or four different variations of "Grim, Grinning Ghosts" that play in the Haunted Mansion, the spiel from the old party line phone in the Manor House, and so on. Just about anything that gets pumped through a speaker in the park is possibly available. So it isn't at all the same as the selections of the "Official Albums" or anything else you've ever been able to buy before. And I was amazed at how long some of the tracks played. The preview samples the kiosks play are only 30 seconds or so, but some of the actual tracks you get on the CD seem to play for four or five minutes. And they're expertly mixed for stereo, so they've obviously put a lot of effort into these. It was really neat being able to clearly discern what each of those pirates had been saying. The echoes in Pirates turn a lot of it into mush for me.

Your CD is personalized with your name (or just about anything you like) and the jewel case insert has the titles of the tracks you selected printed on it and the date it was created. This is a very special way to bring home memories of Disneyland for only $20.00. I could easily spend a fortune on these things, and its only going to get more painful over the months to come as they change which tracks are offered.
Overall, you can't help but be impressed with what the Disney Imagineers have produced. They are amazingly adroit at hitting a balance between simple pleasures and high-tech glitz. They've restored much of the elegance, majesty, mystery, and wonder to this special part of Disneyland that had become faded with the passing years. There's lots of things for kids and grown-ups to see and do in the new Tomorrowland. And there's sure to be more to come!
---
The contents of this website are the copyright © property of the Walt Disney Company®, other studios, Disneyland®, Walt Disney World®, Thinkway Toys®, and Rainbo Animation Art. The images are intended only as illustrations of the art and collectibles being offered for sale and may not be reproduced in any form for any other purpose without the permission of the owners.

Click here for Ordering Information, or simply call us at 612-408-4057 from 9:00 AM to 5:00 PM Central time (-5:00 GMT).