Disney Only Collectibles Shows
These are events where you'll be able to find Disney and animation-related collectibles of one kind or another. Please feel free to send any announcements about Disney collectibles shows in your area by using the "Contact Us" link at the top of this page.
---
D23 is Disney's latest membership club for fans and collectors. In addition to a gorgeous quarterly magazine, the club offers exclusive merchandise and special events like the D23 Expo, which has been held in the Anaheim Convention Center near Disneyland. They are spectacular star-studded productions that will knock your socks off. The first one in 2009 featured stars like Johnny Depp in full Captain Jack Sparrow regalia, Nicholas Cage from the National Treasure movies, Miley Cyrus doing a Hanna Montana song, and more, animators like Glenn Keane, Andreas Deja, and Eric Goldberg, with John Lasseter of Pixar/Toy Story fame, Randy Thornton - the genius of Disney music, and the dean of Disney Imagineering, Marty Sklar. Throw in three days of special merchandise events, and a Disney collectibles show and expositions from Disneyland, and you have an idea of what you can expect.
The club also holds many smaller special events like tours through the Studio and special events in Disneyland and Walt Disney World. The next D23 Expo will be August 9-11, 2012 in Anaheim, CA near Disneyland. You can find details about the event and the schedule on their website linked above.
---
The Dayton Ohio Disneyana Fan Club is holds an annual show and sale at the Wyndham Garden Hotel in Miamisburg, OH. It's touted as the largest Disney show and sale outside of California or Florida, and features special Disney guests discussing their careers with the Mouse House.
---
Disneyana Fun Fairs
Recent Guests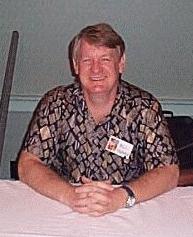 Bill Farmer
The Voice of Goofy
Sam McKim
Disney Artist & Imagineer
This great show run by Louie Garcia is the best independent Disneyana show in the country. Louie always manages to have something special. He has been holding these events on an irregular basis in the last few years. The Disneyana Fun Fair show is always held in the Anaheim area near Disneyland. Special guests have included Disney Legend Sam McKim, Imagineer Bob Gurr, the model for Tinker Bell - Margaret Kerry, and many others.

Disneyana Fun Fairs
1702 W. Civic Center Drive
Santa Ana, CA 92703-2944
714-835-3617


---
The Disneyana Fan Club (formerly the National Fantasy Fan Club or NFFC) is the largest Disney collectors club in the world, and their annual convention is always something special. There are always many special guests from the Walt Disney Company, including artists and Imagineers, who give the atendees a special insight into their work. One of the most popular customs at this convention is "room-hopping," where conventioneers open their rooms in the evenings to display and sell items from their collections. Its a great way for individuals to sell their treasures and also a great way to meet fellow collectors. The convention lasts four or five days and culminates with the banquet on Saturday night followed by the Show and Sale on Sunday. The convention literally fills the Hyatt Alicante Hotel where its held every year. The Hayatt Alicante Hotel is located about one mile south of Disneyland on Harbor Blvd., and they offer special rates to those attending the convention. The hotel fills quickly, so be sure to get your reservation in early. The costs are quite reasonable, too, but you must be an NFFC member to attend convention events (except for the show and sale which is open to the public).

In addition to the annual convention in July, the DFC also holds a kick-off mini-convention in mid-to-late January also traditionally at the Hyatt Alicante. It includes seminars and a luncheon (with guest Disney Studio celebrities) and a big Disney collectibles show and sale on Sunday. You must be a DFC member to attend their conventions. The Show and Sale opens early to convention attendees, and opens to the public around noon.

For more information contact:

Disneyana Fan Club
P.O. Box 19212
Irvine, CA 92713
714-731-4705

Annual dues are $29.00/year and includes a semi-monthly newsletter.
---
For those closer to Walt Disney World, The World Chapter of the Disneyana Fan Club offers a bit of what the headquarters branch in California offers. They have regular meetings, with special guests and fabulous Disney collectibles shows. For more information contact:

The World Chapter
P.O. Box 470116
Celebration, FL 34747-0116

The Florida Vintage Travel Collectible Show holds their Fantasy of Flight show at 1400 Broadway Blvd SE, Polk City, Fl at Exit 44 on I-4 between Tampa and Orlando. The show is open to all Florida collectables but will have a heavy Disney collectable representation. For more information contact Greg Spalding 407-462-2163 or e-mail QED4@aol.com.
---
Antique & Collectibles Shows News
Disney collectibles are easy to find on the web, but there's nothing like seeing them in person. One of the best places to find Disney memorabilia is in local and regional antique and collectibles shows that feature dealers who may not specialize in Disney merchandise, but often have old and rare examples for sale. Here are some upcoming shows around the country that you can see.

---
Palmer/Wirfs' Antiques Expo in Portland is reknowned on the West Coast for it's breadth and quality. Many collectors make a pligrimage to this show every summer.
---
Twin Bridges Antique Productions produces this Cal-Nevada show every year high in the Sierras. You'll find antique furniture, vintage gambling-related items, toys and collectibles.
---
The Hollywood Show operates blockbuster autograph shows every year in Burbank, Las Vegas, and Chicago. See their website for details on celebrity guests and deals on accommodations.
---
A week-long exposition of fine New England antiques, art, and collectibles. Brimfield is the yardstick against which most other antique shows are measured.
---
A fun show for collectors in Minnesota held in Little Falls every year. Makes a great summer getaway for Disney fans in the Upper Midwest.
---
A great collectibles and antiques show at The Greater Seattle Toy Show held at Kent Commons, 525 Fourth Ave. N. in Seattle, WA. See their Facebook page for show schedules.
---
A fine art and antique furniture show held at the Roberts Centre in Wilmington, OH. See their website for show schedules.
---
Held in the Industrial Arts Building at the Lake County Fairgrounds in Crown Point, IN in November. See the Crossroads Chamber website events calendar for deatils.
---
This Indiana regional antique show is held at The 11 Eleven Lycium at 6325 Illinois Road in Fort Wayne, Indiana. See the Myer Antiques Facebook page for show schedules.
---
The Hillsborough Antique Show is one of the premiere antique shows in the San Francisco Bay Area. It's held at the San Mateo County Event Center and features an elite assortment of real antiques and fine collectibles. It's a long time favorite of ours.
---
If there's a good show in your area that includes collectibles, please let us know. We'll be happy to give you a plug. Include showtimes and information about any associated website. Thanks!
This page was last updated on October 13, 2014.