Take advantage of this opportunity to add one of our animation character voice actor autographs to your Disney collection. These talented performers bring the characters to life on the screen and through the years, Disney cartoons have been blessed with the vocal talents of some of the most talented actors in Hollywood - from character actors like Ed Wynn and Billy Gilbert to Oscar winners like Tom Hanks. From now through Monday, you'll save 25% on all of our autographs - including our animator and celebrity autographs.
Did you know that Walt Disney had a private apartment above the firehouse in Disneyland? As a prize at an Annual Passholder Event in 1995, we won dinner in that apartment which has been preserved since Walt's passing in 1966. Click on the picture below to read all about that night, and see all of the pictures we took.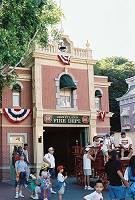 Check out all of our
Pages for Disney Fans.
---
Secure Online Ordering


Similar Toy Story Toys:

Same toys as the 5 inch carded figures sold in 1995.
A fun game, with great graphics that make it a collectible.
This page was last updated on April 25, 2014