Similar Disney Videos - DVDs - Blu-Ray:

The sights and sounds of The Lion King in a grand Disneyland parade.
See the parade as it looked when it captured the hearts of millions of fans.
Save 25% off all of our animation art through Friday! Everything from original production cels to prints, posters, and lithographs are on sale just in time for last-minute Christmas gifts. We have lots of great artwork from Disney, Warner Bros, Filmation and other studios that were already great deals, and now you can save even more.
If you're looking for somethng special to add to you Christmas gift-giving, you'll find dozens of choices that will touch the heartstrings of anyone who enjoys cartoons. Most of our art is priced well under $100.00 so you don't have to break your budget to give something truly memorable.
Save 20% on all of our Disney celebrity voice autographs! You'll save 20% on all of our autographs of the famous actors who performed the voices for your favorite Disney characters, our fine selection of Disney animator autographs, and our nifty assortment of other celebrity autographs. Autographs make great gifts and they're available starting at just $10.00.
Did you know that Walt Disney had a private apartment above the firehouse in Disneyland? As a prize at an Annual Passholder Event in 1995, we won dinner in that apartment which has been preserved since Walt's passing in 1966. Click on the picture below to read all about that night, and see all of the pictures we took.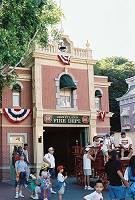 Check out all of our
Pages for Disney Fans.
---
Secure Online Ordering


This page was last updated on June 17, 2012